For Type 2 diabetics chance of cure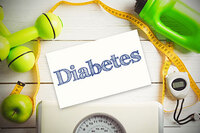 may decrease in diabetics lead to remission of the disease.
It is no longer a secret and proven by numerous studies: Who pays attention to a slim line and lose a few kilos if necessary, does a lot for you and your body. For a healthy weight shown to reduce the risk, later z. B an Diabetes mellitus, of developing a cardiovascular-disease or certain types of cancer. But losing weight is not only for healthy, effective protection. Whether diabetics or heart patients - targeted, permanent weight normalization is now next to drugs as the most important measure for successful treatment of the disease and to optimize the overall health situation.
weight loss: For Type 2 diabetics a chance for cure!
It improves u. a. blood sugar levels, normalizes blood fats and lowers blood pressure - losing weight without question influenced in many ways the body's metabolism positively. Although type 2 diabetics with a permanent weight loss can contribute much to a favorable course of their disease demonstrably, Once it was said previously Diabetes, always diabetes!". But now British researchers give reason to hope, that the diabetes but two-way street, but certainly is curable - through targeted, sustainable reduction of superfluous weight. In the much-publicized study of over 300 obese type 2 diabetics all continued the intervention group blood sugar- and antihypertensive drugs and held over first 3- to 5 Months to a strict low-calorie diet with liquid meal replacements (Formula Diet). Following this, the subjects were gradually accompanied when returning to a healthy diet, according to current recommendations. The control group received standard therapy with drugs. The result: On average, the intervention group had one year 10 lost kg and 46 % the participants reached a remission of type 2 diabetes, d. h. a HbA1c value below 6,5 % - and this without any diabetes medication. In the control group, the average only 1 kg decreased, The remission rate was only 4 %. Conclusion: Simply by removing many Type 2 diabetics could be clinically healthy - according to the study are the chances for the better, the more they lose kilos:
-up to 5 kg: 7% Remission
-5 to 10 kg: 34% Remission
-10 up to 15kg: 57% Remission
-15 kg and more: 86% Remission
become leaner and stay: The ABC program 4sigma acts!
The above study data demonstrate once again: Losing weight is good and important for type 2 diabetics. But it must be equal to a strict diet, which is difficult to endure in everyday life? There is another way: A proven, yet healthy alternative to the chore of counting calories, Waiver or expensive Formula products offers at the University Hospital Magdeburg developed Activ Body Control (ABC)-Program". Already several hundred participants, including diabetic patients with or without insulin therapy, could thus not only a lot and lose weight permanently (an average of about 13 kg in 6-12 months), but also blood sugar, improve blood pressure and blood lipids.
4sigma is a certified supplier of the ABC program. As it runs and how you can participate, learn to detail www.fitheuteundmorgen.de
Coaching of 4sigma: Patient support and strengthen
Not always succeed with a weight reduction normalizing sugar metabolism budget - some type 2 diabetics are slim, but have a genetic predisposition for this metabolic disorder. Diabetes mellitus and its treatment requires them then a high degree of responsibility from: They must be reliable and of diagnosis actually mostly a lifetime taking medication, see their doctor regularly, perform certain self-monitoring at home, adapt their lifestyle to the new situation and not least process the disease psychologically. The good news: Diabetics can live well with their illness, if you know, what is important in dealing with it. This knowledge and ability, successfully and safely manage the disease in everyday life ", conveys and strengthens the patient coaching of 4sigma. The 12-month support program includes in addition to telephone support from a personal health experts in laymen's training materials and telemetric monitoring measures if necessary.
4sigma regularly evaluate the success of their coaching offer. The results show: The long-term and on-demand support for diabetes patients is an investment, pays off. Who accompanied patients benefited not only in medical parameters (from. B. HbA1c, fasting glucose, blood pressure) and showed a higher treatment compliance with specialist- and self-regulation. They won also added new vitality and life satisfaction.
More patients coaching 4sigma under www.4sigma.de
About 4sigma:
The 4sigma has 1995 represented in the market for telephone and telemedicine health services. Since that time, it develops integrated concepts for structured patient- and insured service, making it a pioneer in the field of supply management in Germany.
More information: www.4sigma.de
Contact
4sigma GmbH
Dr. Christina Weber
Bajuwarenring 19
82041 Oberhaching
089/950084-446
[email protected]
http://www.4sigma.de
We distance ourselves from misinformation or messages that other people injured. Please inform us of misinformation!